The Orlow Firm - A New York Personal Injury Law Firm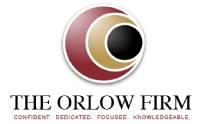 The Orlow Firm is a New York personal injury law firm with offices in Queens, Brooklyn, The Bronx and Manhattan.
Queens Personal Injury Lawyers
71-18 Main St
Queens, NY 11367
United States
Facebook - Twitter - YouTube - LinkedIn
Founded in 1981 by Steven Orlow, The Orlow Firm is a father & sons law firm. The Orlow Firm welcomed Steven's sons, Brian and Adam, in 1997 and 1998 respectively.
The Orlow Firm exclusively practices personal injury cases in New York. The firm's growth and reputation is based on treating each client and each case with the individual attention it deserves. When contacting The Orlow Firm, your case will always be evaluated by a partner at the firm who's experienced in the area of injury pertaining to your case.
In addition to individual attention, The Orlow Firm also has the resources, knowledge and experience necessary to seek maximum compensation for their clients.
We offer free case evaluations where you can discuss your case with a lawyer on a no-obligation basis. If we work together, we work exclusively on a contingency basis - meaning if we don't win your case, there's no fee.
Are you looking for one of the following types of lawyers?
New York Personal Injury Lawyers
New York Wrongful Death Lawyers
New York Motorcycle Accident Lawyers
New York Truck Accident Lawyers
New York Bicycle Accident Lawyers
New York Pedestrian Accident Lawyers
New York Construction Accident Lawyers
New York Lead Poisoning Lawyers
New York Nursing Home Abuse Lawyers
New York Slip & Fall Lawyers
New York Brain Injury Lawyers
Give us a call today for a free no-obligation case evaluation. (646) 647-3398